Pleasure Cruise Cabo – Yacht Charters Offer Style & Luxury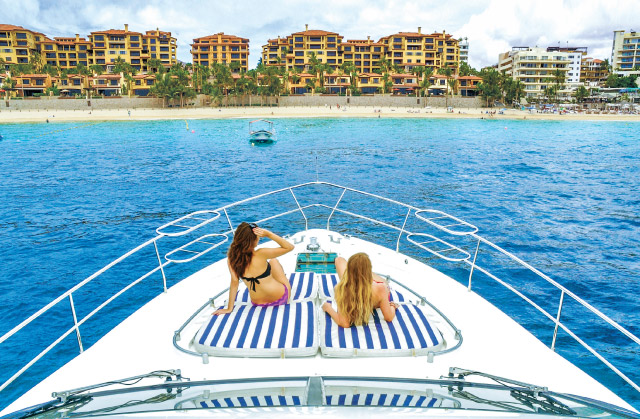 You don't have to be a celebrity to cruise like one aboard a magnificent private yacht. Imagine the wind in your hair as you set course for enchanting islands on the Sea of Cortez, scenic coves or Cabo's arch at sunset. Planning the cruise of your dreams is easy in Los Cabos, where private yacht charters offer sophistication, top-of-the-line amenities and superb service.
Custom tailored to your preferences, chartering a private yacht provides unrivaled flexibility to explore and relax. Los Cabos is one of the few areas in the world where you can reserve a private yacht for a few hours, a full day or a multi-day excursion. Rivaling many fine villas in their stylish décor and masterful craftsmanship, luxury yachts come equipped with appealing areas to unwind, admire the views, go fishing or enjoy a glass of champagne under the sun. A yacht offers a unique setting for special celebrations, from birthday parties to intimate wedding receptions. In addition, guests can further personalize their experience with gourmet chef services.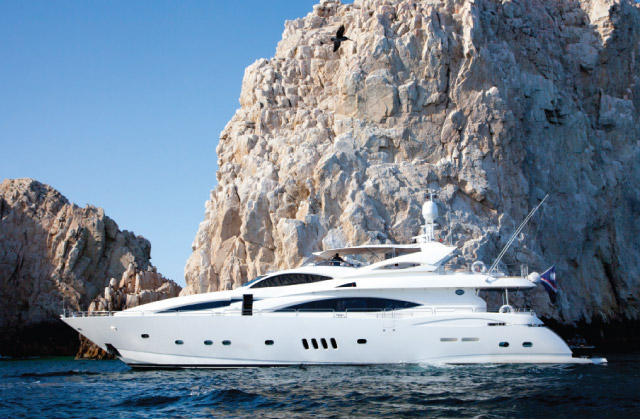 Recognized as the leading yacht and fishing charter provider in Los Cabos for over 35 years, the Pisces Group offers a range of vessels, experienced captains and professional crews. Tracy Ehrenberg, owner of the Pisces Group, explains that yachting allows you to "leave the world behind for several hours or days – it offers you the chance to immerse yourself in serenity in your own private and luxurious world." Recognized for their exceptional level of service and expertise, Tracy explains that her charter company stands out in part because her team is located directly on the Cabo San Lucas Marina, allowing them to closely oversee day-to-day operations and ensuring the highest standards are consistently met.
A range of itineraries can be customized for each guest. Plan a brunch cruise to some of the area's best snorkeling spots. Arrange an evening cocktail cruise under the stars. For the ultimate yachting experience, plan a multi-day jaunt to the region's beautiful islands as you cruise along the magical coastline of Los Cabos, admiring the turquoise waters of the Sea of Cortez and striking desert landscapes. You may even catch a glimpse of migrating whales or playful dolphins. Throughout your experience, the friendly and knowledgeable bilingual crew will attend to your every need to ensure your journey is comfortable.
From sleek crossover vessels boasting top-of-the-line fishing equipment to lavish mega yachts, Pisces has a vessel to fit every style. The 60-foot It's All Good is a pristine Fairline Squadron offering yachting at an attractive price. This yacht offers a comfortable salon, a dining area, inviting staterooms, fishing equipment and a host of excellent features usually found on larger vessels. As glamorous as she is stable, the 85-foot Contessa is a perfect Cabo charter yacht featuring an open salon, a well outfitted galley, staterooms with en suite baths, underwater lighting to set the ambiance, and a range of watersports equipment including a jet ski, stand up paddle boards, snorkel gear and a kayak. The gorgeous 105-foot Polly is a showstopper – a modern masterpiece featuring an oversized salon paneled in cherry wood, a formal dining area, a bar, deluxe staterooms, a spectacular upper deck with seating areas and more. This captivating vessel strikes an imposing figure as it cruises through the waters, its clean lines an intriguing complement to the luxury within. The 120-foot Maranatha "combines eye-catching design and a variety of water toys to make your cruise fun," says Tracy, including wave runners, paddle boards, kayaks, a water trampoline and even a 24-foot console boat for waterskiing and fishing. These are just a few of the many outstanding vessels available through Tracy's team.
Ready to plan the yacht charter of a lifetime? Charters begin at $1,750 with a range of options available. Contact our team to get started.