Top 5 Reasons to Plan your Destination Wedding in a Cabo Villa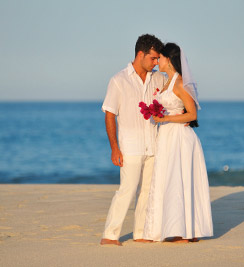 If you're been dreaming of a sunny destination wedding but are overwhelmed by the variety of locations and the possibility of having to coordinate a hundred little details—not to mention convincing your family and friends that this is a GREAT idea—you might find that a Los Cabos villa wedding is a sure bet. Here are our top reasons to consider tying the knot at Land's End.
1. It's Easier to Get Here than You Think: Located at the tip of Mexico's Baja peninsula, Los Cabos (home to Cabo San Lucas and its quieter colonial sister city, San José del Cabo) is a relatively short flight from most major US airways. That means you can be planning the final details next to the pool of your private villa in a matter of a few short hours. Cabo's accessibility has made it a favorite weekend getaway for celebrities—and that convenience will make it easier for your wedding party than some other popular tropical destinations. Surrounded by dramatic desert scenery, the Sea of Cortez and the Pacific Ocean, Cabo's island-like isolation from the U.S. border and mainland Mexico only adds to its appeal.
2. Villa Variety is the Spice of Life: The magic of a villa wedding lies in the fact that—just like couples—no two Cabo villas are exactly alike. Whether you're looking for an intimate beachfront wedding at a romantic hacienda or an over-the-top extravaganza complete with fireworks at one of Cabo's swankiest mansions, there's a villa to match your vision.
3. Something Blue: There's just no better backdrop for your wedding photos than the brilliant blues of the Sea of Cortez or Pacific Ocean.
4. It's all About You: Most wedding venues restrict you with preset catering menus and one-size-fits-all packages. With a villa wedding, you can pretty much customize the entire experience to fit your personal taste and budget. Want mariachis and margaritas? Champagne and caviar? Fire dancers or a full band? A villa rental allows you the flexibility to make your wedding dream a reality. And, working with an experienced Los Cabos wedding specialist can make the planning process a breeze. You and your wedding party can have full hair and makeup services right at the villa, too!
5. Start Honeymooning Immediately: When the wedding party's over, you can get right down to the business of relaxing. Whether you choose to continue your stay in your villa rental or head off into the  sunset to relax at one of Cabo's luxury resorts, you're already in paradise! You'll find plenty of ways to unwind and celebrate, from unforgettable sunset cruises to the iconic rock arch ("El Arco") of Cabo San Lucas to the tempting variety of award-winning international restaurants. Party it up at one of the hot nightclubs in Cabo or pamper yourself with soothing spa treatments—Los Cabos offers something for every couple!
---
Our Top Wedding Villas:
More Los Cabos Mexico Wedding Info