10 New Vacation Villa Rentals in Los Cabos, Mexico!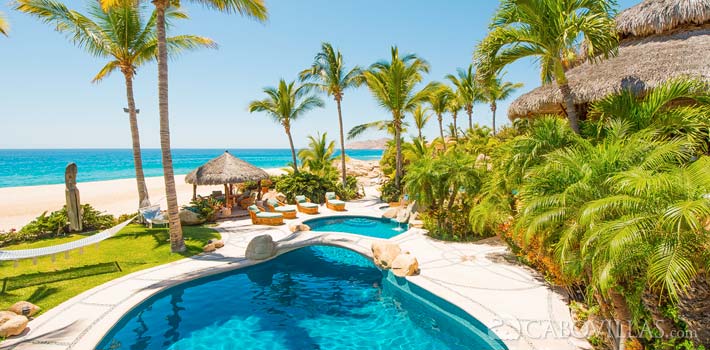 Whether you're coming to Los Cabos, Mexico for a fun-filled family vacation, a getaway with some of your best friends, or an unforgettable destination wedding, you'll find that a villa rental is a fantastic option. Offering great value, flexibility and privacy, a villa is the perfect combination of luxury and home-like amenities. We're continuously seeking out Cabo's best vacation villas for our guests. Here are 10 amazing new additions to our villa program.
---
7BR-9.5BA, Sleeps 14
From $2,360/night
This beachfront compound is a tropical retreat like no other. Overlooking the Sea of Cortez and a magnificent stretch of beach, Villa Las Rocas features individual casitas, inviting open living areas, a spectacular swimming pool with cascading waterfalls and a host of amenities that will take your breath away. This one-of-a-kind villa rental feels like your own private resort.  More info…

---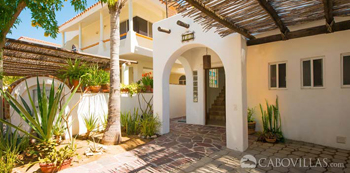 2. Villa Chris Anne
3BR-4.5BA, Sleeps 8
From $320/night
A great vacation value for groups, Villa Chris Anne is conveniently located in the Cabo Bello area of Los Cabos, just a short drive to all of the fun of downtown Cabo San Lucas and the marina. This contemporary villa boasts all the amenities you need for a comfortable vacation getaway. You'll enjoy the lovely views of the Sea of Cortez as you lounge on your private rooftop deck sipping a cocktail.  More info…

---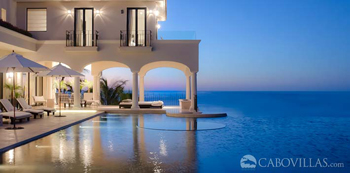 3. Villa Paradiso Perduto
8BR-8+BA, Sleeps 16
From $4,800/night
Located in the Puerto Los Cabos area just minutes from historic San José del Cabo, this stunning villa is a masterpiece of architecture perfectly blending contemporary and Mediterranean style. A luxurious retreat with amazing views of the Sea of Cortez, this villa is great for golf lovers and is situated in the heart of the the Greg Norman Mission Course and the Jack Nicklaus Marine Course. The world-class marina at Puerto Los Cabos is also but a short drive away.  More info…
---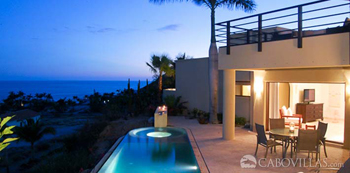 4. Villa Cielo
4BR-5BA, Sleeps 10
From $800/night
As you gaze out at palm trees and spectacular views of the Sea of Cortez from Villa Cielo, you'll know you've found a perfect piece of paradise. You're also just a short walk to a lovely stretch of beach. An inviting retreat is waiting for you at this lovingly decorated villa, with modern Mexican architecture and warm hues accented by vibrant tropical landscaping. There's plenty of room for you and your guests to relax in comfort.  More info…
---
5. Villa Neva
5BR-7BA, Sleeps 12
From $1,200/night
Attractive architecture, an inviting interior design, designer accents and pretty views of the Sea of Cortez create the setting for a memorable vacation getaway at Villa Neva, a welcoming retreat situated in the Punta Ballena area of Los Cabos. This charming villa boasts an excellent combination of comfortable furnishings, elegance and great amenities.   More info…
---
6. Villa Dorado
5BR-5.5BA, Sleeps 10
From $1,200/night
Located just steps to breathtaking Pedregal Beach, Villa Dorado is an attractively updated villa in an great Cabo San Lucas setting. Enjoy a snack on the outdoor patio, relax in your private swimming pool or take a dip in your ocean-view jacuzzi in the evening accompanied by music playing on the outdoor stereo. This appealing vacation villa boasts everything you need for a fantastic time in Cabo!   More info…
---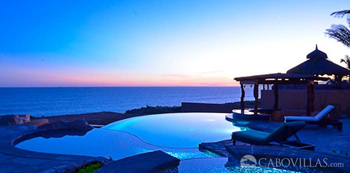 7. Villa Bella
5BR-6+BA, Sleeps 10
From $2,500/night
Enchanting vistas overlooking the Sea of Cortez welcome you to Villa Bella, a wonderful beachfront vacation rental situated in the luxurious Puerto Los Cabos area just minutes from historic San José del Cabo. A breathtaking blend of hacienda and modern styles, the villa features stunning furnishings, inviting bedroom suites, spacious terraces, superior amenities and ever-present ocean views. You'll enjoy the refined yet laid-back charm.  More info…
---
8. Villa Shery
3BR-3.5BA, Sleeps 6
From $429/night
Wonderfully private Villa Shery is located in Pedregal, the most prestigious neighborhood in Cabo San Lucas. This lovely villa features Pacific Ocean views and an inviting setting for your vacation. You and your guests will appreciate the convenient location just a short drive to the center of downtown Cabo and the many activities, restaurants and nightlife options of the marina.  More info…
---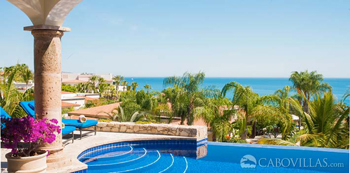 9. Villa Soleado
5BR-6BA, Sleeps 10
From $800/night
When you step into the enchanting fountain courtyard at Villa Soleado you'll enter a world of timeless charm. Situated in Palmilla, one of the original luxury developments in Los Cabos, this attractive villa boasts plenty to admire, including lovely views of the Sea of Cortez, colorful Mexican décor, a great private pool terrace, comfortable suties and more!  More info…
---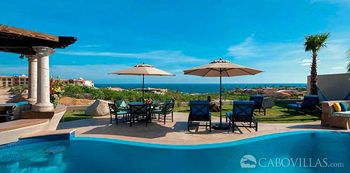 10. The Residences at
Hacienda Encantada
3BR/4.5BA, Sleeps 8
From $1,714/night
Combining modern luxury and classic elegance, the new villas at the Hacienda Encantada Resort are sure to impress with their attention to detail and craftsmanship. Hacienda-style architecture, private pools and ocean-view terraces are just a few highlights. In addition, guests can take advantage of the excellent dining and amenities available at this world-class resort.  More info…
Ready to plan your villa vacation  in Los Cabos? Our team is here to help! Contact us to start planning.