Ahead Of the Trend: Top Reasons to Plan that Cabo Getaway
Captivating Changes
Whether or not you've visited Los Cabos, you may have some established notions of what the destination is about. There are, of course, wide sandy beaches, a well-known party scene and endless margaritas by the pool. In the past few years Los Cabos has matured and is redefining itself as one of the world's top luxury destinations. Sure, you can still find plenty of Spring Break style shenanigans, however a metamorphosis is taking shape making Los Cabos a top draw for the international jet set in search of high-end amenities, world-class accommodations and gourmet dining with celebrity chefs.
A boom in development means more choices and better values than ever for visitors. Glamorous new beach resorts line the sun-swept beaches along the Pacific and Sea of Cortez. Breathtaking new residential properties join established luxury developments with exquisite vacation homes boasting superb ocean views and striking architectural features. Private villas are ideal for multi-generational family vacations or lavish once-in-a-lifetime escapes. Greater competition in the Los Cabos vacation market has translated to a broader array of choices for travelers, from places to stay and things to do, to exciting new dining spots for devout foodies.
Natural Splendor
Located at the southernmost tip of Mexico's Baja Peninsula where the waters of the Pacific meet the Sea of Cortez, Los Cabos is home to an abundance of environmental diversity. The rugged mountain ranges and desert landscape dotted with towering cacti serve as an unforgettable contrast to the sparkling azure seas. The region continues to draw devoted eco-travelers seeking authenticity to experience the pristine waters and stunning desert biosphere. Visitors can dive or snorkel with many varieties of tropical fish, rays, sea lions, dolphins, whale sharks and other sea creatures. Whales put on jaw-dropping displays during their winter migrations along the coast. Kayaking and standup paddling are great ways to see the sights on the water. On land, mountain bike tours, zip-line excursions and horseback riding tours allow visitors to see the native flora and fauna of this unique ecosystem. And, of course, there are the golden beaches which unfold for miles along the coastline.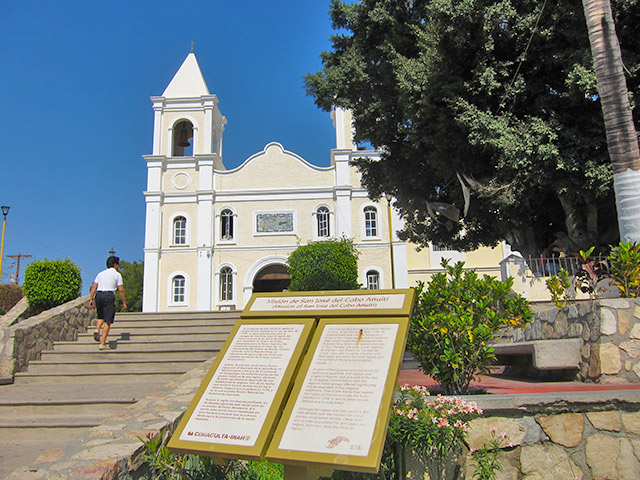 Historic Pursuits
Although Los Cabos is best known for the bustling city of Cabo San Lucas with its world-famous marina and chic resorts, the area is also home to more traditional spots brimming with history and authentic culture. In colonial San José del Cabo, historic architecture, a traditional revitalized town square and romantic courtyard restaurants serve as a counterpoint to Cabo's party energy. A favorite activity here is the Thursday evening Art Walk (November through June) when local art galleries keep their doors open late into the evening and music fills the streets. Visitors stroll the streets to explore the numerous boutiques and galleries offering paintings, sculptures, folk art and jewelry, while restaurants offer gourmet dining.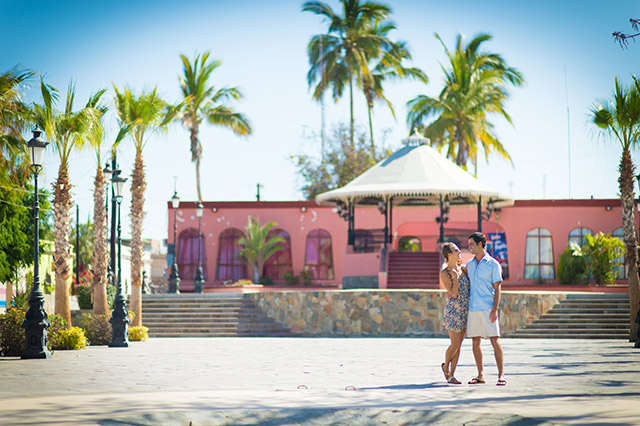 Another fabulous destination for history buffs, Todos Santos is a "Pueblo Mágico" ("Magical Town") recognized by the government for its unique cultural richness. A former sugar mill town surrounded by a natural palm oasis, Todos Santos is now home to an expat population of surfers and artists. Located about an hour from Cabo San Lucas along the Pacific, this destination is a great day trip spot offering charming restaurants and boutique art galleries. Nearby, the beaches are a huge draw for boogie boarders and surfing enthusiasts.
Play in Paradise
If these are not enough reasons to start planning your trip, maybe the incredible golf, fishing and yachting will seal the deal. Los Cabos boasts numerous outstanding golf courses designed by such legendary greats as Jack Nicklaus, Tiger Woods, Robert Trent Jones Jr and Tom Weiskopf. These are some of the most picturesque courses in the world, unfolding along rolling desert terrain and with many holes that overlook the brilliant Sea of Cortez. Anglers also flock to Los Cabos for the fishing bragging rights, as prize billfish, tuna and dorado are plentiful in these waters. Of course, if you prefer to relax in luxury while taking in the surrounding beauty, a private yacht charter is the way to go.
Ready to plan your dream vacation in Los Cabos? Contact our team today.