Perusing the Rows of the San José del Cabo Mercado Organico
We had the opportunity to speak with the general manager of the San José del Cabo Mercado Organico (or San José del Cabo Organic Market). The market is open Saturdays from November through May and is home to local vendors selling everything from jewelry to organic produce.
There are several other farmers markets throughout Los Cabos. What sets yours apart? SANJOMO AC (San José del Cabo Mercado Organico) is a non-profit organization that strives to create a place where local products and art can be available and supplied by our multicultural community. Our objective is to promote local organic agriculture, arts and crafts, music and educational resources. We also promote and emphasize the importance of low impact ecological/sustainable packaging, recycling and producer-buyer awareness, which not only educates but improves the quality of life of the community. It is a seasonal market that operates every Saturday from 9-3, November to May, at the Huerta Maria near downtown San José.
Over the years SANJOMO AC has developed an organic certification program based on the Mexican Organic Regulations, the NOP (National Organic Program) and IFOAM (International Federation of Organic Agriculture Movement) to guarantee the community that what they are buying is organic. Our certification program is a Participatory Guarantee Systems (PGS), which is a locally focused quality assurance system. We certify the producers based on active participation and by building a foundation of trust, providing networks and exchanging knowledge.
We are also members of the RED A.C. (Red Mexicana de Tianguis y Mercados Organicos), which is a non-profit organization whose goal is to promote and help develop local markets (most organic production in Mexico is exported) and to encourage the consumption of local organic products and to promote direct relationships between producers and consumers.
How many vendors do you currently have? Do many of the same vendors come every Saturday? How about new ones? The Organic Market has around 100 vendors every week. We do have many of the same vendors and new ones joining every week.
What types of vendors do you have? We have vendors providing farm fresh products such as fruits, vegetables, eggs, cheese and chicken. Vendors also sell prepared and processed foods and a variety of locally prepared foods, canned goods, baked goods, beverages and even ice cream. Arts and crafts such as photography, wood carvings, paintings, textiles, apparel, furniture, ironworks and jewelry are very popular as well. Vendors also provide services such as massage, body work, education and body care. There are also non-profit organizations, including environmental and social services.
Do many of the vendors speak English? All vendors are from our local diverse community and many of them speak English.
What kind of environment can customers expect? Is there live music? It is a beautiful outdoor space centered around a family oriented environment. There are a variety of activities for kids and adults alike, including live music, movement and capoeira classes, cooking demonstrations, writer expositions, ping pong and more. And of course, there are the wonderful vendors who provide great organic and locally crafted products.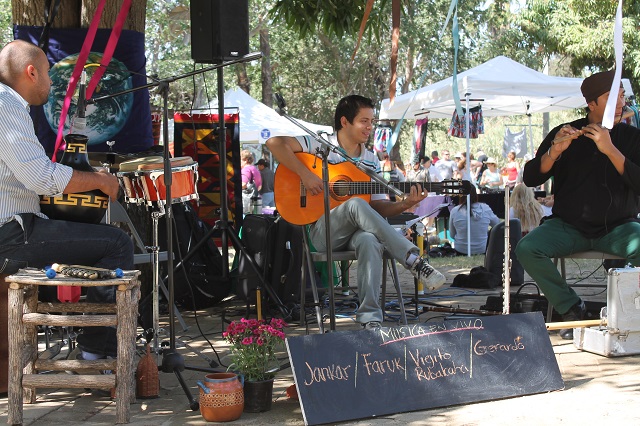 More Information: San José del Cabo Mercado Organico