Soaring above Los Cabos with Cabo Sky Tours (Video)

Spectacular video footage shot while flying above Los Cabos, Mexico
I consider myself very fortunate to have had the opportunity to photograph several of Los Cabos' picturesque beaches and serene landscapes, not to mention all of the amazing resort and villa shoots that I've undertaken over the years. With that said, it's always been a big dream of mine to take to the air and focus my lens on Cabo from up above. I recently had the opportunity to fly with Mexico's top ultralight pilot last month. I must say, it was a photo assignment I won't soon forget. Besides the vastly different vantage point that the ultralight gives you, the experience is truly exhilarating. I can't stop thinking about when my next flight will be (Hopefully sooner rather than later).
Any apprehension I may have had was quickly laid to rest the moment I met the pilot, Ernesto Magaña (my shoot team seemed more nervous than I was). Having flown for over 29 years and logged over 7,800 hours of flight time, Ernesto was the first pilot in Mexico to receive an official ultralight license. His methodical pre-flight check and list of safety rules were very reassuring to me (no hats, lose clothing or accessories are allowed). Prior to each flight, he thoroughly inspects the ultralight and ensures it's in perfect flying condition. Manufactured in France by La Mouette (winner of multiple Hang Glider and International Aeronautic Competitions), Ernesto's ultralight is constructed of the safest and most stress resistant materials available.
The one hour flight included a tour of the mountainous Pedregal and it's impressive vacation homes as well as a spectacular flight along the corridor up to One&Only Palmilla before we headed back to his personal landing strip (located adjacent to Villa del Arco Beach Resort).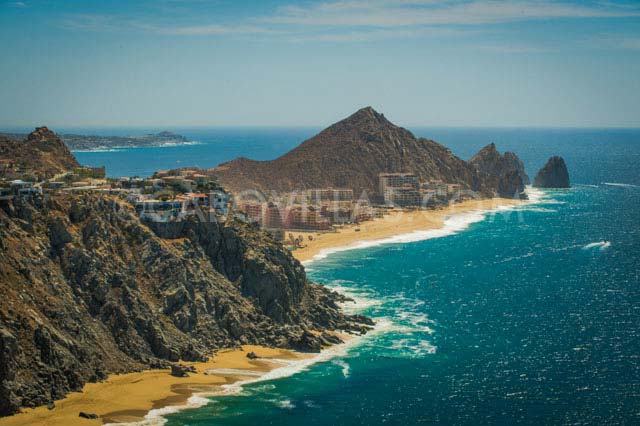 Along the way, I was able to capture some breathtaking video footage and stills of the remarkable landscapes, Sea of Cortez, vacation properties and beaches of Los Cabos (For a small fee Ernesto will attach your GoPro to the wing).
His company, Cabo Sky Tours, offers four different tours for the general public as well as customized options for professional photographers. Prices range from $75 for a quick, 10-minute Land's End tour or up to $360 for the one hour Kings Sky Tour. For reservations or more info, visit https://caboskytours.com or contact Ernesto directly at 624-144-1294 or 044-1-624-150-1000 (mobile).
By Robert Trama, Director of Marketing for CaboVillas.com
More Photos: