Spectacular Ocean Views & Sophisticated Luxury at Fully Staffed Casa Stella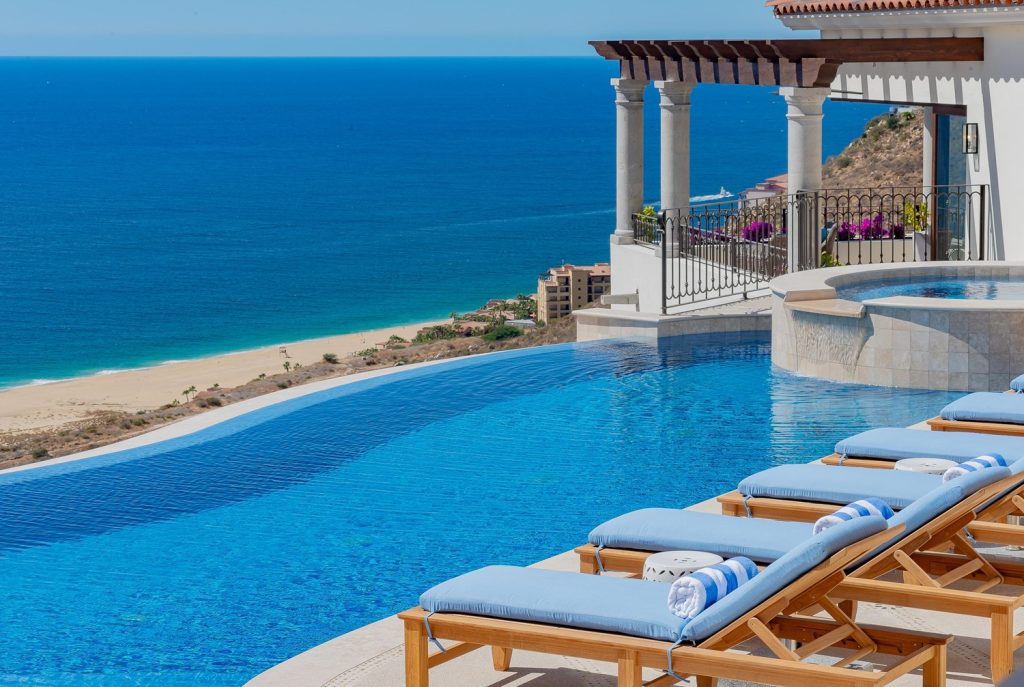 A marvelous hilltop location, stunning architecture, expansive panoramic views, and lavish interior design welcome guests at Casa Stella. This luxurious vacation rental in Cabo San Lucas is perfect for large groups and boasts resort-style amenities, along with outstanding service with their dedicated in-house staff of chefs, bartender, attendants, and housekeeping. Casa Stella is an architectural masterpiece that has been thoughtfully designed to offer breathtaking ocean views from nearly every room on the property. With 10 bedrooms, Casa Stella comfortably accommodates up to 20 guests, ideal for milestone celebrations and group getaways.
"We went with our family for a 50th birthday party. Upon arrival, we were greeted with drinks and all smiles from the staff. The house is BIG, the rooms are spacious and very clean. They have everything to make you feel comfortable; fireplace, fire pit, a beautiful infinity view pool, hot tub, jacuzzi, and gym. It is located in the Pedregal with a beautiful view of sunrise and sunsets so picture-worthy, no filter needed! Now let me talk about the staff, all of us on that trip were grateful for the amazing staff! I absolutely LOVED practicing my Spanish and chatting. Now the food! OMG the food was absolutely the best. All meals we felt like we were at one of the fanciest restaurants. Presentation was great and the meals were full of flavor, without being overwhelming. It is definitely worth the money and I wish this was a yearly family gathering. Can't say enough about this place."

Maiara – February 2023
This incredible estate boasts an impressive list of luxurious amenities that will make you feel as though you are staying at a private resort while still providing all the comforts and conveniences of home. The attention to detail and expert craftsmanship shines throughout the villa, creating an inviting and relaxing ambiance both inside and out.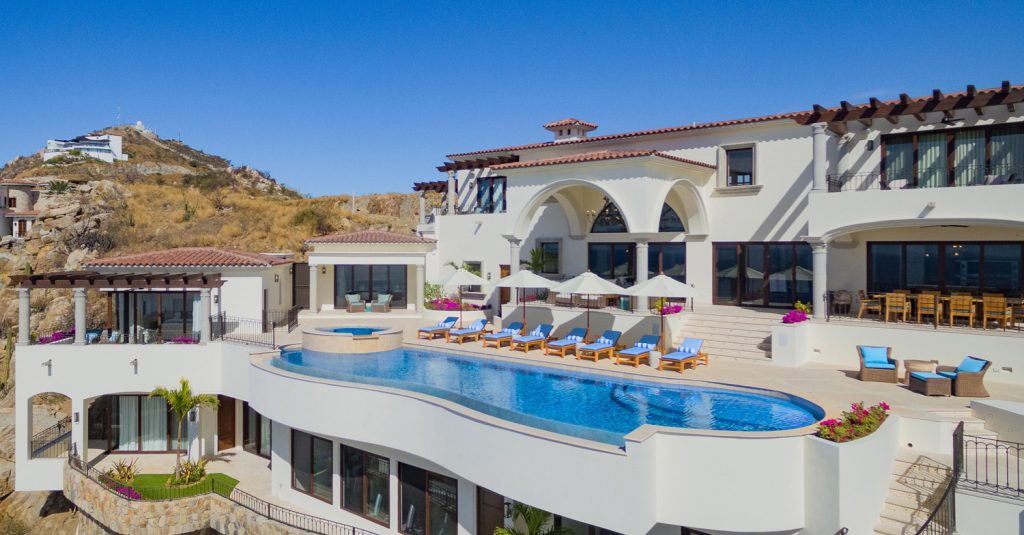 From its hillside location, Casa Stella features breathtaking Pacific Ocean views. The villa features an ocean-view pool, jacuzzi, and terrace ideal for lounging and dining. Outside, there's also a state-of-the-art media system and firepit for enjoying glorious evening sunsets. The outdoor living and dining area is complete with a poolside bar. The oversized outdoor fire feature offers giant surround sofa seating – perfect for the refreshing Pacific breezes reserved for the fortunate few residing at the top of Pedregal.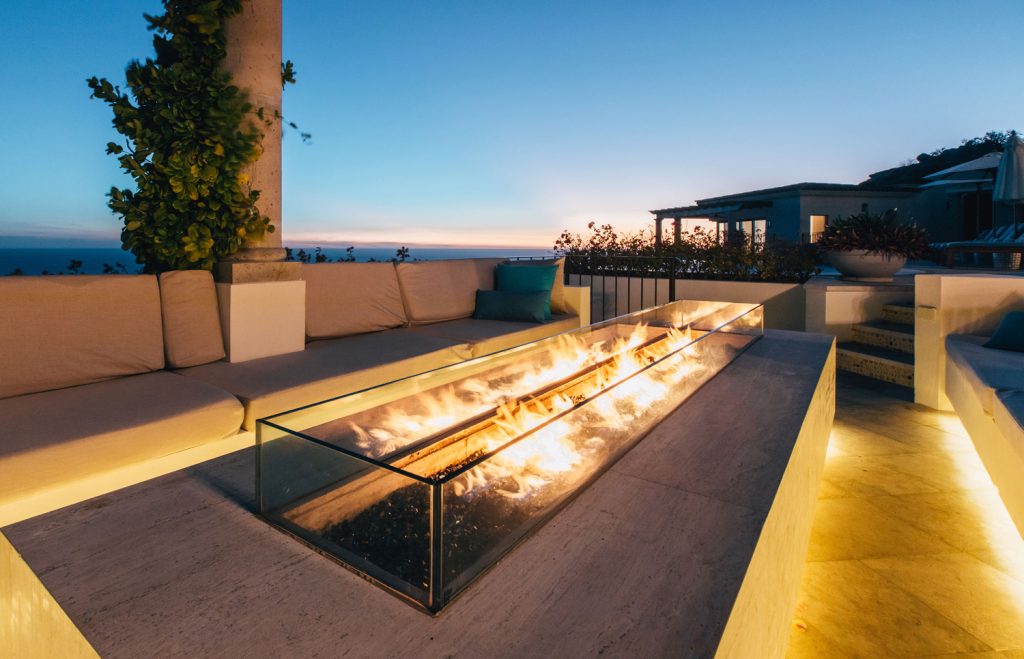 But what really makes Casa Stella stand out as a luxury retreat is their dedicated in-house staff of chefs, bartender, attendants, and housekeeping. The Casa Stella team provide attentive service and delicious gourmet cuisine customized for your group (additional cost + gratuity). And with a varied menu, there's something for everyone. Enjoy tantalizing international menu options, including pizzas from the villa's commercial-grade ovens. Meals are thoughtfully prepared by the Casa Stella cooking team with impeccable service, lending dining experiences to feel like guests are enjoying meals at a resort restaurant, but in the privacy of a luxurious estate. Guests are truly catered to by the incredible staff – each person that stays in Casa Stella feels like a celebrated guest. Guest beverage refrigerators and coffee bar are located in designated areas outside of the staff workspaces and kitchens.
Inside the villa, you'll find laid-back elegance and impeccable design. Bedroom Suites are well-appointed and generously-sized featuring Four Seasons king mattresses. There's also a fully-equipped gym, private theater room, sauna, and two massage treatment rooms for the ultimate relaxation.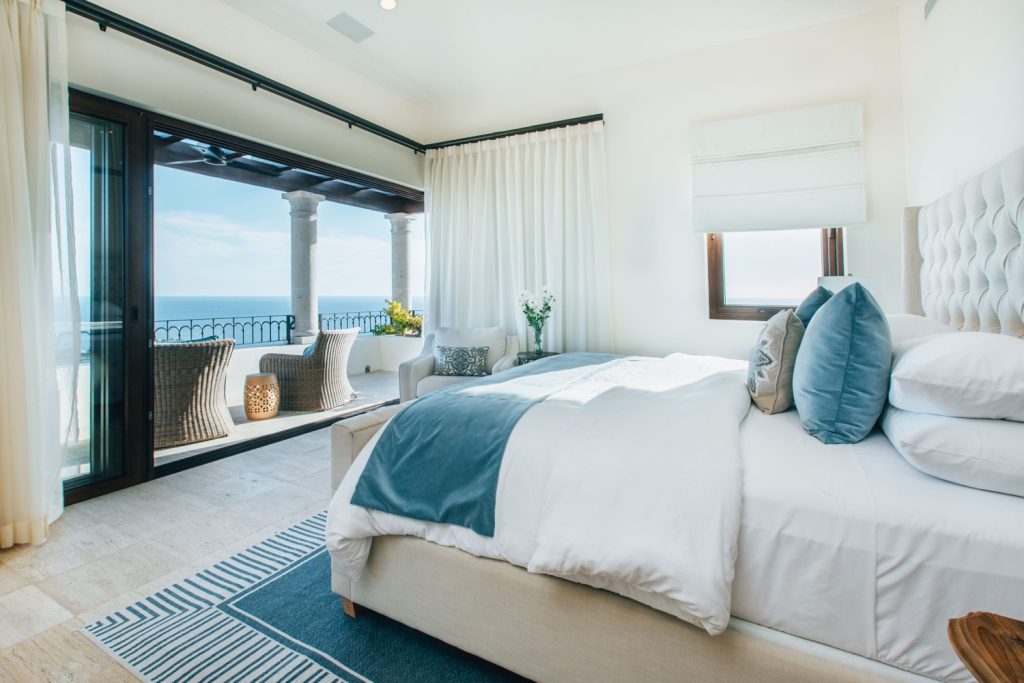 Located in the gated Pedregal community, Casa Stella offers a tranquil escape while still being close to downtown and the marina. Don't miss out on this unforgettable Cabo experience!
More Information:
Casa Stella
Comfortably accommodates 20 / 10 BR / 11 BA , 3 Half Baths / 12,200 sq ft
From $6,500/night