Top picks for your Cabo Bucket List
Whether you're planning your first vacation in Los Cabos, Mexico or are a devoted repeat visitor, there's always something new and exciting to explore. Discover the marine life of the Sea of Cortez and see the area's natural wonders.
Here are some ideas for your next adventure:
1

Swim with a Whale Shark

Gentle giants of the deep, whale sharks are the world's largest fish and are docile filter feeders. Migrating huge distances across the world's oceans, these enormous fish can reach lengths of up to 33 feet, with several reports of even larger animals. Several tours offer guests the opportunity to swim with these magnificent creatures in the Sea of Cortez. Whale sharks are visible in the waters near La Paz during the months of October through April. Explore tours…
2

Whale Watching

Whale watching in Los Cabos is a breathtaking experience. Each winter, gray and humpback whales make an epic migration along the Pacific coastline of North America all the way from cold Alaskan waters to the warm lagoons of the Sea of Cortez. Here, they give birth to the next generation in protected waters. From the months of December through April, visitors in Cabo San Lucas can view these incredible creatures with reputable tour operators. Explore whale watching tours…
3

Balandra: One of Baja's Best Beaches

With white sands and breathtaking turquoise waters, Playa Balandra is a magnificent beach situated near La Paz. Approximately a 2.5 hour drive from Cabo San Lucas, it's possible to plan a day trip to explore this spectacular natural treasure. A beach parking lot and palapa rentals are available. Shallow waters make it possible to walk along the bay. Balandra's famous "mushroom rock" is situated at the end of the pocket beach to the right (around the bluff) from the main beach. You can also take a kayaking tour. Be sure to treat this area with care, pack all your trash out and keep Balandra pristine for fellow visitors.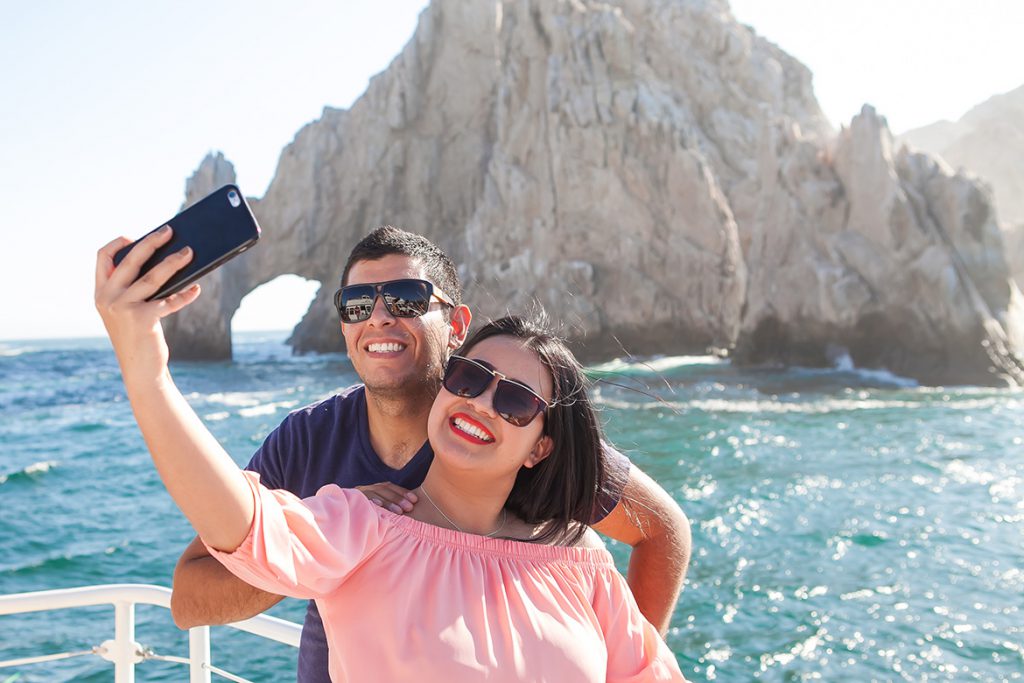 4

Snap a Selfie in Front of El Arco

No trip to Cabo would be complete without snapping a photo in from of El Arco. Cabo's soaring natural stone arch marks the meeting of the waters of the Pacific Ocean and the Sea of Cortez at the tip of Mexico's Baja Peninsula. You can see El Arco up close via a variety of water tours, from sailboats to dinner cruises. Fun fact: sand appears under the arch every few years under the right conditions of tides and currents (it's never advisable to walk in this area due to strong surf). Explore water tours…
5

Catch a Marlin

Nicknamed the "Marlin Capital of the World," Cabo is known as one of the world's top sport fishing destinations. Catching a marlin in Los Cabos is definitely a bucket list item for anglers, with black, striped and blue marlin frequenting our waters. Heading out with an experienced fleet is a must. Pisces Sportfishing offers skilled crews and a variety of vessels. With a commitment to conservation, their team encourages catch and release to maintain healthy populations. You can also catch dorado (mahi mahi), tuna, roosterfish, wahoo and other species in Cabo. If you decide to keep your catch, several great restaurants along the marina can prepare your fish.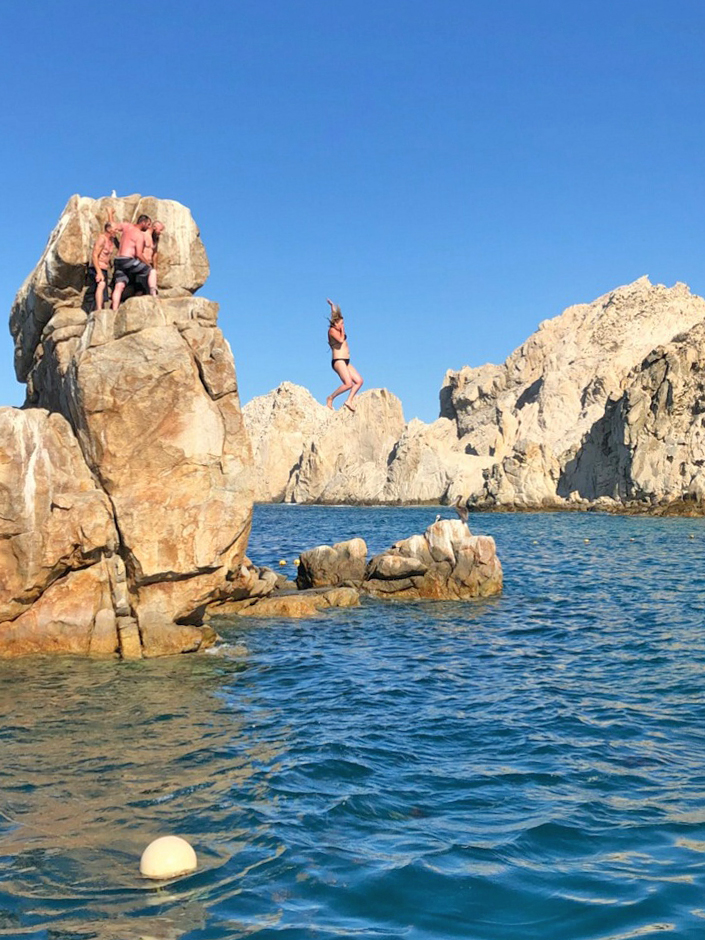 6

Jump off of Pelican Rock

Hop aboard a water taxi or book a private boat tour and head out to Pelican Rock to show off your aerial acrobatics as you jump off this rock into the waters of Cabo San Lucas Bay. Located near Land's End, this rock is surrounded by teeming tropical sea life and the area can be great for snorkeling under the right conditions.
7

Diving at Cabo Pulmo

Boasting one of North America's most vibrant living coral reefs, Cabo Pulmo is a national marine sanctuary offering incredible world-class scuba diving and snorkeling. This is an easily accessible day trip for Cabo visitors with excellent guided excursions available. Divers love coming here to view the unique variety of manta rays, sharks, tropical fish, sea turtles, colorful corals and more. Read More: Cabo Pulmo a Conservation Success Story…